2. OPERATING PROCEDURES
2.5. Working with Disk Images
2.5.2. Copying files and folders from of Disk Image to another location
After completion of disk image creation you can open a disk image, see its folder structure and copy some files and folders from image to another location.
To open disk image and to copy files and folders from it:
Start Active@ Disk Image
Go to top menu [F9] then menu Image -> Open Image. Or press [Ctrl]+[O]
Load image configuration file (*.dim) or compose image from chunks the same way as it was explained in Disk Image Restoration section
Press [OK] in Compose Image dialog to open and add disk image to the list of available devices. After this list is refreshed, marker will be positioned on your image:
Position a marker to logical drive ( Image (1:) in the example above) and press [ENTER] to scan a disk image for files and folders
Use arrows, [ENTER] and [TAB] keys to go through the folders tree until you find file or folder you want to copy from the image to another location: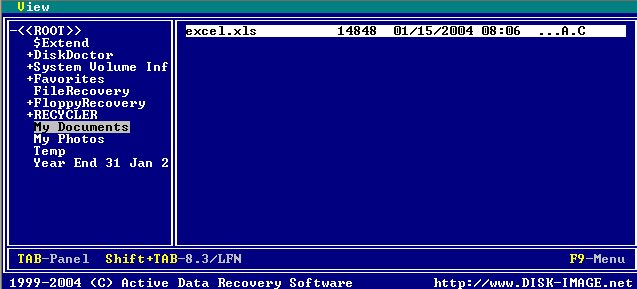 Press [Ctrl]+[C] to invoke destination location dialog for the files and folders to be copied.
Choose destination location and press [ENTER] to start copying progress.